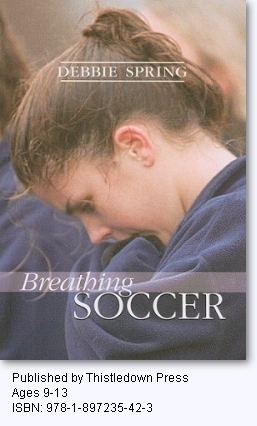 Lisa has asthma. Her family doctor has warned her that the aggressive demands that soccer places on her breathing could be lethal. Her soccer coach decides not to play her. Just when it seems that the world has conspired against her, Lisa discovers a new source of strength in the example of Olympic medallist, Silken Laumann, who after a terrible accident was told that her career was over, yet went on to win the Bronze medal for Canada. BREATHING SOCCER is a realistic account of the plight of asthmatics who desire the challenge and thrill of sports, but must weigh that desire against some very real health issues.

BREATHING SOCCER is a finalist for the
2010 Manitoba Young Readers' Choice Award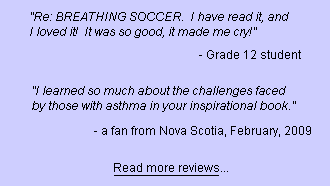 FAQ: Is the book BREATHING SOCCER biographical? Not really. Although I am asthmatic, soccer is not one of my sports. However, when my son was younger, I was a soccer Mom, watching his games every weekend. My writing is like a jigsaw puzzle. I take things that happen to me and include bits and add pieces of information about people that I know, cut them up in pieces, mix them up, and add a dash of imagination.